You have a Positive Pregnancy Test
Calculate your Due Date
Due date Calculator – PregnancyInfo.ca
Book your Midwifery Team ASAP
Congrats you had a positive home test! You do NOT need a referral to book with a midwife. Call our office at 344-2229 or book online at http://www.mcmidwives.ca/client-intake/. Your midwife will order any ultrasounds or bloodwork at your initial visit. Bring a list of any questions to your first appointment.
Pregnancy Tests – PregnancyInfo.ca
Routine Prenatal Care – Prenatal Education Ontario 
Early Pregnancy Topics – Maternity Care Midwives Learn about every from medication safety to discomforts of pregnancy!
Prenatal Vitamins and Supplements
Prenatal Vitamin Look for a multivitamin that provides 400 mcg (0.4 mg) of folic acid, vitamin B12, 27mg of iron, 200-300mg of calcium, and a minimum of 400IU of vitamin D. Examples: SmartyPants PreNatal Formula Gummies, Thorne Research Basic Prenatal, Emerald Lab Prenatal, Raise them Well Prenatal Vitamins, MamaBird Prenatal Multi+ from the Best Nest.
Vitamin D supplement Take 2,000 – 4,000 IU of vitamin D even if your prenatal vitamin contains 400 IU.
Calcium – Your prenatal vitamin plus 2-3 servings of calcium a day (about 600mg/day) will meet your calcium needs for pregnancy. If you diet is low in calcium, add at least 1g calcium supplement to your diet.
DHA If your prenatal vitamin does not contain 800 milligrams of DHA, take it as a separate supplement.
Miscarriage
Page your midwives if you feel cramping, back pain, lower abdominal pain, or experience bleeding from your vagina. It's important to page even if you haven't had your initial appointment yet. Click here for information on paging.
Resource Library – Pregnancy and Infant Loss Network 
Peer Support Programs – Pregnancy and Infant Loss Network  
Local Circes of Support Group – Pregnancy and Infant Loss Network
Finding your way to Family Support Group – Local
8 weeks
Your First Midwife Appointment
Your initial visit usually takes place between 8 and 10 weeks gestation. Your first appointment will be approximately 1 hour. Your midwife will discuss our model of care, early pregnancy topics, your pregnancy and medical history, routine tests, and genetic screening options. During regularly scheduled visits to the midwifery clinic, midwives provide physical examinations and assessments, support and information. After an informed choice discussion, your midwife will order the bloodwork, urine and ultrasound tests you are agreeable to.
Dating Ultrasound
Dating ultrasounds are most accurate when they happen between 7-12 weeks. Your midwife will order a dating ultrasound at your first prenatal appointment between 8-10 weeks.
Routine Ultrasound – PregnancyInfo.ca
Ultrasound in Early Pregnancy: Dating Scan – Women's & Newborn Health Westmead Hospital
Fetal Ultrasound – My Health Alberta
Helpful Supplies
Make a trip to the drug store to stock your medicine cabinet with essentials. Use the list on our website the Medication Safety Pocket Book as a guide.
Pregnancy and Breastfeeding Pocket Guide – CHU Ste. Justine
Download a Pregnancy App
10 Weeks 
Spinning Babies
Start balancing your body for a more comfortable pregnancy and easier birth!
Daily Activities for an Easier Childbirth – Spinning Babies
Weekly Activities Self-Care Activities for Body Balance – Spinning Babies 
Find a Massage Therapist
Most local registered massage therapists book 3 months in advance. If you have extended health care benefits, consider pre-booking appointments. It can be nearly impossible to get in for a massage in mid-to-late pregnancy when you need it most.
Benefits of Massage – American Pregnancy Association 
11 weeks
Genetic Screening before 14 Weeks
Option 1 is called enhanced first trimester screening (eFTS). It is done between approximately 11 weeks 2 days to 13 weeks 3 days gestation.
Option 2 is called non-invasive prenatal testing (NIPT). It can be done after 9 weeks gestation.
What is Prenatal Screening? – Prenatal Screening Ontario
A Guide to Understanding Prenatal Screening Tests – Genetics Education Canada
Cell-Free DNA Prenatal Screening (AKA Non-Invasive Prenatal Testing) – Genetics Education Canada
Prenatal Genetic Screening – PregnancyInfo.ca
Pelvic Balance
11 Weeks Pregnant: Why Pelvic Balance Matters – Spinning Babies 
12 weeks 
Healthy Living
You are now in your second trimester. Your energy should start to improve and your nausea should subside. Shift your focus to a healthy diet and exercise.
2019 Canadian Guideline for Physical Activity throughout Pregnancy – CSEP:SOGC
Healthy eating when pregnant and breastfeeding – Canada's Food Guide
Choose a Pregnancy Book or Podcast
Recommended Reading and Listening – Maternity Care Midwives On this page you'll find a many options for reading and listening. You do not have to use them all. Read the descriptions and choose the option(s) that best suits your needs.
Apply for Childcare
Our local daycares have long waitlists. Research child care centres and start an application ASAP.
The District of Thunder Bay Child Care Registry. One Application. One List.
Child Care Centres – The City of Thunder Bay
14 Weeks
Build your Birth Team
Get your partner a copy of The Birth Partner: A Complete Guide to Childbirth for Dads, Partners, Doulas, and All Other Labor Companions by Penny Simkin.
Since the original publication of The Birth Partner, partners, friends, relatives, and doulas have relied on Penny Simkin's guidance in caring for the new mother, from her last trimester through the early postpartum period.
Now fully revised in its fifth edition, The Birth Partner remains the definitive guide to helping a woman through labor and birth, and the essential manual to have at hand during the event. The Birth Partner includes thorough information on:
Preparing for labor and knowing when it has begun
Normal labor and how to help the woman every step of the way
Epidurals and other medications for labor
Pitocin and other means, including natural ones, to induce or speed up labor
Non-drug techniques for easing labor pain
Cesarean birth and complications that may require it
Breastfeeding and newborn care
and much more
For the partner who wishes to be truly helpful in the birthing room, this book is indispensable.
If your partner is queasy or you need additional supports, consider hiring a doula. A midwife is NOT a doula! A birth doula is a trained labour support person who provides emotional and physical support to those giving birth and their families. They are not medical professionals. Doulas are not covered by OHIP.
Evidence on Doulas – Evidence Based Birth
Local Doulas – Maternity Care Midwives
18 Weeks
Anatomy Ultrasound Scan
Your anatomy scan happens between 18 and 22 weeks gestation. Your midwife will give you your requisition to schedule your appointment at your 16 week appointment.
Detailed Anatomy Ultrasound – Prenatal Screening Ontario
Routine Ultrasound – PregnancyInfo.ca
Fetal Ultrasound – My Health Alberta
Learning About Fetal Ultrasound Results – My Health Alberta
Ultrasound Scan: Your 18 to 20 Week Scan – Mater Mother's Hospital
19 Weeks Pregnant: Sex of Baby (or Itty Bitty Baby Parts) – Spinning Babies
Pelvic Floor Connection
Align and balance your pelvic floor anatomy to create a symmetrical space for your baby to move into a good birth position. Work towards mastering the pelvic floor and breath connection for an easier pushing stage!
Click to access spinningbabies_daily_pelvic_floor_exercises.pdf
20 Weeks
Fetal Movement
Listen to Hypnobirthing Tracks
Hypnobirthing – Hypnobirthing teaches you about birth physiology, how your body works on a muscular and hormonal level, and what you can do to help make your birth easier, quicker and more comfortable. You'll learn how your body can work comfortably allowing you to navigate your birth feeling calm and in control.
Squat
You (Still) Don't Know Squat – Nutritious Movement 
21 Weeks
TDAP Vaccine
The SOGC recommends immunization in EVERY PREGNANCY between 21 and 32 weeks of gestational age. The golden window is between 27 and 32 weeks. Book your vaccine with your family doctor during that time frame.
Q & A on Tdap Vaccination Against Pertussis (Whooping Cough) During Pregnancy in Canada – SOGC
Get the Whooping Cough Vaccine During Each Pregnancy – CDC
Tdap (Pertussis) Vaccine and Pregnancy – CDC
Tetanus, Diphtheria and Pertussis (Tdap) Vaccine – Mother to Baby
Tdap Vaccination in Pregnancy – CMAJ
22 Weeks
Body Work
When your body is aligned during pregnancy, the baby has more room to get into the best position for an easier birth. Consider booking with a registered massage therapist, osteopath, chiropractor, acupuncturist, and/or cranial sacral therapist.
Body Work and Self-Care – Spinning Babies
Benefits of Massage – American Pregnancy Association 
Pregnancy – Canadian Chiropractic Association
Is Acupuncture Safe during Pregnancy? – West End Mama
Craniosacral Therapy in the Midwifery Model of Care – Midwifery Today
Why you might want to see an Osteopath during Pregnancy – Fit Mom
Osteopathy for Pregnant Women? Absolutely! – Force Medic
24 Weeks
Gestational Diabetes Screening
Your glucose screening for gestational diabetes will happen between 24 and 28 weeks. Your midwife will do your screening at your routine prenatal care appointment.
Gestational Diabetes – Visual Tools to Support Informed Choice
Glucose Testing: Screening for Gestational Diabetes – PregnancyInfo.ca
Gestational Diabetes Management – Canadian Diabetes Association
Gestational Diabetes Mellitus – Saskatchewan Prevention Institute
Screening for Gestational Diabetes – My Health Alberta
Know the Signs & Symptoms of Preterm Labour
Preterm Labour Signs & Symptoms – Best Start
Preterm Labour – Ontario Prenatal Education
Preterm Labour – My Health Alberta
Preterm Labor Patient Education – March of Dimes
26 Weeks
Talk to your Partner
13 Questions to Ask Your Partner Before Giving Birth – Bad Mom Advice
Plan your Parental Leave
EI Maternity and Parental Benefits – Government of Canada
Pregnancy and Parental Leave – Government of Canada
Maternity Leave – PregnancyInfo.ca
Write or Revise your Will
28 Weeks
Client with Negative Blood Groups need Rhogam
Your midwife will give you a prescription and instructions at your prenatal care appointment.
Blood Groups and Red Cell Antibodies in Pregnancy – National Health Service
Rh Blood Groups – PregnancyInfo.ca
Drink Red Raspberry Leaf Tea
In the third trimester (28 weeks and beyond), drink 1-2 cups of red raspberry leaf tea daily. If you don't like the flavour of the tea on it's own, try mixing it with spearmint and rosehips.
If you're not a tea-drinker, you can take 1.5-5 g daily in capsule or tablet form.
Know the Signs & Symptoms of High Blood Pressure
What are Hypertensive Disorders of Pregnancy? – AOM
Gestational Hypertension – PregnancyInfo.ca
Fetal Movement
You do not need to count fetal movement everyday. Only count movements when you think your baby's usual movements have slowed down or stopped at a time when the baby is usually active, or if your midwife has asked you to do daily movement counts.
Fetal Movement and Kick Counts – PregnancyInfo.ca
Baby Movement Counting – BC Women's Hospital
30 Weeks
Fill out your Hospital Pre-Admission Form
Your midwife will provide you with a Hospital Pre-Admission form at your prenatal appointment. It will ask you basic demographic information and about insurance policy information.  Everyone gets a private room for labour and delivery.  After birth, clients have the option for early discharge 3 hours after birth or to stay in-hospital on the Maternal-Child Unit. Postpartum clients have the choice for a private ($310/day), semi-private ($275/day) or ward room (Covered by OHIP).  If you have semi-private coverage and want a private room, you will be billed for the difference in price ($35/day). Bring the completed Hospital Pre-Admission Form to your next midwifery appointment.
32 Weeks
Learn about Labour & Birth
Prenatal Class Options – Maternity Care Midwives
Tips for Labour Progress – Spinning Babies
Lamaze Healthy Birth Practices – Lamaze
Prenatal Classes and Preparing for Delivery – PregnancyInfo.ca
Pack your Hospital Bag or Prepare your Homebirth Supplies
Hospital Bag Packing Guide – Maternity Care Midwives
Homebirth Supplies Checklist – AOM
What to Pack – PregnancyInfo.ca
Belly Mapping
The Basics of Belly Mapping: How to tell Baby's Position – Spinning Babies
33 Weeks
Create a "Birth Plan"
Your Birth Plan – PregnancyInfo.ca
Watch The Labour and Delivery Tour
Do a Hospital "Drive By"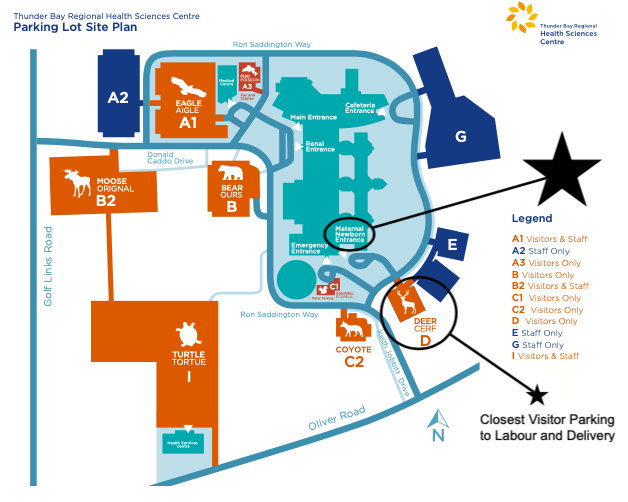 34 Weeks
Practice Comfort Measures, Relaxed Breathing, and Labour Positions
Go to our "Body Work" page to find out more. Click here!
Learn How to Breastfeed
Breastfeeding Matters: An Important Guide to Breastfeeding for Women and their Families – Best Start Ontario
Getting a Good Latch – The Canadian Association of Midwives
Breastfeeding Tips – La Leche League
Is my Baby Getting Enough Milk? – International Breastfeeding Centre
Breastfeeding: Starting out Right – International Breastfeeding Centre
Breastfeeding Videos – International Breastfeeding Centre
Breastfeeding Visual Guide from Birth to 3 Weeks – Best Start Ontario
Create Postpartum Stations
Consider building a basket for the bathroom, creating a nursing station , and stock a diaper caddy.
Nursing Station: Choose a comfortable chair with a side table that is close to an outlet. Plus in a nightlight. Include nursing pads, nipple balm, silverette nursing cups, burp cloths, a Haaka, a phone charger with a long cord, a water bottle, chapstick, non-perishable snacks, hand sanitizer, hand lotion, hair ties, cleaning wipes, a nursing pillow, and hydrogel heating/cooling pads.
Bathroom Basket: Peribottle (provided by the hospital), sitz bath (provided by the hospital), Tucks pads, Epsom salts, disposable pads & high-waisted underwear, cleansing wipes, stool softener, acetaminophen, and ibuprofen.
Diaper Caddy: Include a changing pad, diapers, baby wipes, diaper cream, baby lotion, clean outfit, socks, burp cloth, blanket, wash cloth, hand sanitizer, a small toy, infant probiotic, vitamin D drops, pacifier (if using), and plastic bag for garbage.
Install your Car Seat
Choosing a Child Car Seat – Ministry of Transportation
Installing a Child Car Seat or Booster Seat – Government of Canada
Safe & Secure – Ministry of Transportation 
Car Seat Laws – Kids Play Safe
35 Weeks
Group B Streptococcus Screening
Group B Streptococcus – Maternity Care Midwives
Group B Strep (GBS) in Pregnancy and Birth: What's a Mom to Do? – Aviva Romm
Group B Streptococcus Screening – PregnancyInfo.ca
Labour Preparation
Tips for Labour Progress – Spinning Babies
Pain Medications in Labour – Ontario Prenatal Education
Download a Contraction Timing App
Any free app that is simple to use and works with your smartphone is perfect. If you want to pay for an app, we'd suggest the Freya Surge timer and virtual birth partner App ($3.99)
Perineal Massage
Perineal massage during the last month of pregnancy encourages the perineal tissue to stretch/expand more easily during birth to prevent tearing. Read more about it here (scroll to the bottom of the page).
36 Weeks
Review When to Page
Paging Instructions –  Maternity Care Midwives
Eat Dates
At 36 weeks, eat 6-8 deglet noor dates or 3-4 Medjool dates a day to get your cervix ready for labour. Read more here.
Express and Save your Colostrum
Hand Expression of Breastmilk Video – Stanford Medical 
Antenatal Expression of Colostrum – La Leche League
Expressing your milk before your baby arrives (Antenatal expressing) – Association of Breastfeeding Mothers
Collecting Colostrum While You're Pregnant – CFPCN
37 Weeks 
Interventions in Labour
Interventions in Labour – Ontario Prenatal Education
The Miles Circuit
The Miles Circuit  This position series can help to rotate a baby. As a natural method of induction, it helps get things going if baby just needed a gentle nudge into position to set things off. Start practicing the circuit at about 37 weeks, starting with 10 minutes per position per day, adding a few minutes each day until they get to the full 90 minutes.
Acupuncture or Acupressure
At 37 weeks, consider acupuncture or acupressure.  Acupuncture involves the insertion of fine needles into specific points of the body while acupressure involves using the thumbs or fingers to apply pressure to specific points. They can be used to soften and thin the cervix and to induce labour. Local practitioner Wei Huang offers acupuncture for induction. Read more here.
Nipple Stimulation
At 37 weeks, begin nipple stimulation. It releases oxytocin and causes uterine contractions. Read more here.
Manual: Try to mimic the latch of the baby. Apply traction and a pulling/rolling motion to the nipples together (or separately but one after the other) for 15-30 minutes, 2-3 times per day. Having your partner perform the manual stimulation increase the force and thus improve the effective.
Double electric pump: for a  total of an hour in this sequence – pump 20 mins, rest 10 mins, pump 10 mins, rest 10 mins, pump 10 mins.
Single Pump – Pump for 15 mins on each breast and to switch between your breasts consistently. Pump 4 times total (twice per side).
Sexual Intercourse
Sex 2-3 times a day, for 2-3 days in a row may promote labour at term. This protocol assumes a heterosexual cis-gendered couple.  Sexual intercourse is considered safe in pregnancy if your waters haven't broken and you do not have a low-lying placenta. Orgasm and nipple stimulation contribute to the effectiveness of sex to encourage labour. Read more here.
38 Weeks
Newborn Medications & Screening Tests
The Vitamin K Shot in Newborns – Evidence Based Birth
Evidence on Erythromycin Eye Ointment for Newborns – Evidence Based Birth
Newborn Screening Ontario Website
Critical Congenital Heart Disease (CCHD) Screening – Newborn Screening Ontario
Your Baby's Hearning Screen – Ontario Government
Vitamin D Supplementation – Canadian Paediatric Society
Stretch & Sweeps
Your midwife will offer a vaginal exam and "Stretch and Sweep" at your routine prenatal appintment.  During a stretch and sweep,  your midwife will use sterile gloves and lubricant. Then they will put two fingers into the vagina to examine and stretch the cervix. Next they will sweep their fingers around the inside of the cervix to separate the bag of waters from the lower part of the uterus. Your midwife can only do a "Stretch and Sweep" if your cervix is open. Sweeping causes your body to release prostaglandins, softening the cervix and strengthening oxytocin-induced uterine contractions. Read more here.
Evening Primrose Oil
Take one vaginal capsule of evening primrose oil 1,000 daily. Take it at night and wear a liner to bed to minimize the mess. The gel capsule will melt with your body heat and some oil may leak from your vagina. You can buy capsules at in the vitamin/supplement section of drug stores or health food stores. Read more here.
39 Weeks
Learn about when your pregnancy goes past your due date (40 weeks) and induction of labour.
When your Pregnancy goes Past your Due Date – AOM
Oxytocin: To Help Start or Speed Up Your Labour – PCMCH
40 Weeks
The "Midwife's Brew"
Ask your midwife about the recipe for the "Midwife's Brew" or "Labour concoction." Your midwife may recommend trying it to promote labour if your cervix is ready. Read more here.