At Maternity Care Midwives our clients safety is our top priority, we are currently implementing the following to keep our clients safe and reduce the spread of Coronavirus during this pandemic (most recent update April 13th) :
-We ask that if you are experiencing any respiratory symptoms or feel unwell or have had close contact with anyone with symptoms (fever, cough, shortness of breath, sore throat, loss of sense of smell) to stay home in self-isolation and call for your appointment
-If you have traveled anywhere outside of north western Ontario in the past two weeks we are asking you stay home under self isolation for a period of two weeks and call for your appointment
-We ask that if possible to attend appointments ON YOUR OWN (we are trying to reduce the number of people in our waiting room- as per guidelines) and strongly urge for children to stay at home, we will be closing the children play area until further notice. As cute as your littles' are- they are very good a spreading the virus. If spouses are required for transportation we request they stay in the vehicle
-Midwives received a order from the chief medical officer of Ontario to reduce non-essential visits on March 19th. As per The World Health Organization recommended visits for a positive pregnancy outcome, we have received guidance on what visits are deemed essential. The majority of clinicians providing maternity care across Canada have switched to this in order to reduce the risks to their patients and themselves during the pandemic. The visit schedule is : one visit in the first trimester, two visits in the second trimester 16-20, 28 weeks. Five contacts in the third trimester: 31-32, 34-36, 38, 39, 40, 41 weeks. This does not apply to pregnancies that we consider more high risk. We will also offer phone appointments as a alternative, to those who would prefer at this time. Postpartum visits will be individually assessed
–
Please welcome Holliday Tyson to our clinic, she has so graciously offered to help during the pandemic. Holliday will be doing most essential clinic visits as well as home visits, allowing midwives to keep hospital and community separate. She has practiced midwifery and nursing in 7 countries over 36 years, and worked as a consultant for the WHO in Russia on humanization of hospitals and reduction of maternal mortality. She was the founding Director of the Laurentian University Midwifery Education Program. We are very lucky to have her assistance during these times, you may recognize her as the teacher of our prenatal online classes.
-At Thunder Bay Regional Health Science Center Women in labour are allowed 1 essential care partner (cannot exchange people). This support person is not allowed to come and go from the hospital. So please bring in your car seat when coming in labour. Also the partner is allowed to stay for 6 hours from the time of birth of the baby. The partner is not allowed to go to the cafeteria, so please bring a cooler of food for your partner. Your essential care partner will not be permitted if suspect of COVID or having any COVID symptoms.
-Due to concerns related to aerosolization and spreading the virus with entonox, nitrous oxide or referred to as breathing gas- it will no longer be offered for the time being at Thunder Bay Regional Health Sciences Centre in Labour and Delivery. All other forms of analgesia remain available
-As of April 20th our two midwifery teams at the practice will merge into one. This is to ensure client safety and support midwives working during the pandemic.
-If you are under self-isolation and are unsure if you need to go the hospital or page-please complete novel coronavirus self assessment tool   . Still unsure? call Telehealth Ontario at 1-866-797-0000 to speak to a nurse/doctor
Valuable Resources
Disinfecting Your Home During COVID for planned Home Birth
Thunder Bay District Health Unit Information
The Coronvirus While Pregnant or Giving Birth
National Perinatal Association
Talking to Your Children abut the Virus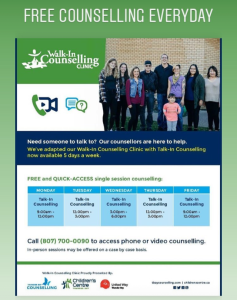 Social Distancing Doesn't Have to Mean Social Isolation
World Health Organization- When and How to Use Masks